For her first day of summer vacation, my daughter and I spent some time walking about the bayfront, Newport, Oregon.

It's a must to stop and visit the local Sea Lions. Awww, here's one with something caught around it's neck. I have heard of this over the years, but this was our first account seeing it first hand.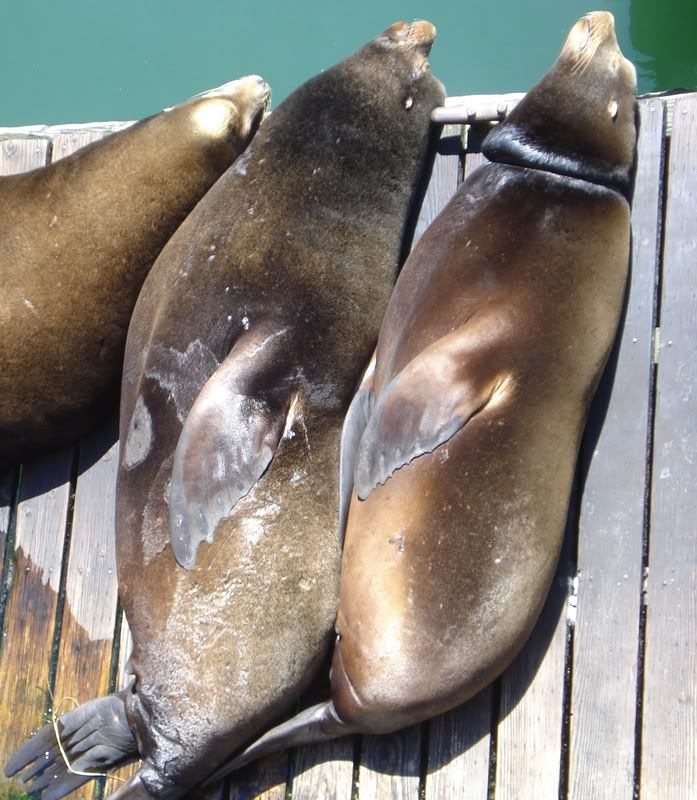 Or, maybe this is the wildlife version of gastric bypass. They look so cute n cuddly, I should have sent my daughter down to wriggle it off it's neck.
"It's ok, hun, their bark is worse than their bite."



Here is another shot, from the same vantage point. The Sea Lions are just below us, over the railing (that you can't see anyway :-)
Newport is a pretty little coastal town, central Oregon coast. We live just about 7 miles from Newport.
That is the Yaquina Bay Bridge. To the left is southbound highway 101 to Waldport and beyond. To the right is midtown Newport, Depoe Bay, Lincoln City and beyond . . . .

I love the Spring and Summers here, but that's IT. Fall and Winter bites. After my daughter is done with OSU, in about 10years, we are moving back to California. Lordy, I never thought I'd actually state for the record that I am actually going to move back to cali. Ok, I am giving Oregon another 10years. Maybe that global warming thing will actually kick-in, ha ha.